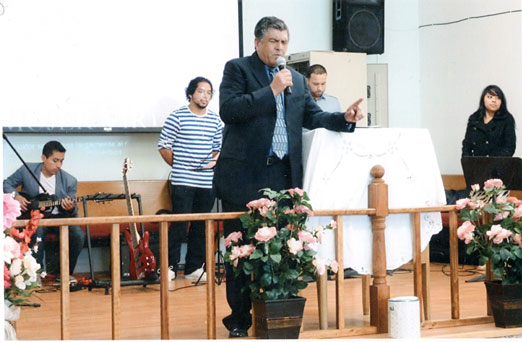 El templo de la Iglesia Bautista de Allen proporciona servicios de adoración y espiritual y atención Congregacional de feligreses de habla hispana en toda la comunidad.
Con la visión del pastor J.Alfred Smith padre, el Ministerio Hispano comenzó en la primavera de 1992. La comunidad de East Oakland estaba cambiando demográficamente. Un gran porcentaje de los hispanos y Latinos se trasladaron a las comunidades de Oakland oriental. Dr. Smith, Sr. vio este cambio como una oportunidad para llegar a la comunidad hispana y Latina para construir una relación y difundir el Evangelio de Jesucristo.
En marzo de 1992, la Iglesia de los hispanos fue establecida con el reverendo Rubén Hurtado como el pastor. Con la asistencia de los miembros del templo de Allen Deacon Armando Aguilar y Deaconess Una Kelly, la Iglesia hispana creció en tres años de una pequeña iglesia familiar a una iglesia vibrante con más de 60 miembros.
En 1994, la comunidad cristiana de Shiloh cedido al reverendo Betita Coty durante dos días por semana a trabajar con el reverendo Rubén Hurtado en la prestación de servicios a la comunidad hispana y a desarrollar aún más la Iglesia hispana. Con Temple de Allen y fraternidad cristiana de Shiloh combinando recursos, fueron capaces de romper las barreras de lenguaje, como los recursos de ambas iglesias hablan a español con fluidez. Fueron capaces de alcanzar el objetivo de llegar a en nuestra comunidad para satisfacer lo espiritual las necesidades de toda la comunidad.
Nuestra iglesia ha seguido creciendo y para difundir el Evangelio más allá de las cuatro paredes de la Iglesia. En la primavera de 2004, nuestra Iglesia hizo un viaje misionero al Salvador en América del Sur donde, bajo la dirección del reverendo Hurtado, se estableció una iglesia de subdivisión de hispanos del Temple de Allen. Membresía consistió en 70 niños y adultos de unos pocos. El pastor actuando en ausencia del reverendo Hurtado es Sara Elizabeth Gavay Martínez. La Iglesia de la rama sigue creciendo espiritualmente y numéricamente.
Dios dieron otra visión de Reverendo Hurtado; mi pueblo alimentan con la palabra de Dios en México. En ser obediente y un sirviente al pueblo de Dios, otra rama iglesia se estableció en México. Esta iglesia está floreciendo en México y Dios se complace. Periódicos viajes misioneros están programados para las iglesias de la rama para proporcionar apoyo espiritual, aliento y materiales religiosos. Dios es continuar bendecir a su pueblo en nuestra comunidad, pero lo más importante en todo el mundo.
Contacto:
Pastor Isai Hurtado
Emerito Pastor Rubén Hurtado
Boulevard de 8709 internacional.
Oakland, CA. 94621
(510) 544-8910
iglesiabautista@Allen-Temple.org
Servicios del domingo 10am-12pm
The Iglesia Bautista de Allen Temple provides worship services and spiritual and congregational care for Spanish-speaking parishioners throughout the community.
With the vision of Pastor J.Alfred Smith Sr., the Hispanic Ministry began in the spring of 1992. The East Oakland community was changing demographically. A large percentage of Hispanics and Latinos moved into the East Oakland communities. Dr. Smith, Sr. saw this change as an opportunity to reach out to the Hispanic and Latina community to build a relationship and spread the Gospel of Jesus Christ.
In March 1992, the HispanicChurch was established with Reverend Ruben Hurtado as the pastor. With the assistance of Allen Temple members Deacon Armando Aguilar and Deaconess Una Kelly, the HispanicChurch grew in three years from a small family church to a vibrant church with over 60 members.
In 1994, Shiloh Christian Fellowship loaned the Reverend Betita Coty for two days per week to work with Reverend Ruben Hurtado in providing services to the Hispanic community and to further develop the HispanicChurch. With Allen Temple and Shiloh Christian Fellowship combining resources, they were able to break down the language barriers as the resources from both churches spoke fluent Spanish. They were able to achieve the goal of reaching out in our community to meet the spiritual needs of the entire community.
Our church has continued to grow and to spread the Gospel beyond the four walls of church. In the spring of 2004, our church made a missionary trip to El Salvador in South America where under the direction of Reverend Hurtado, an AllenTempleHispanicBranchChurch was established. Membership consisted of 70 children and a few adults. The acting pastor in Reverend Hurtado's absence is Sara Elizabeth Gavay Martinez. The branch church continues to grow spiritually and numerically.
God gave Reverend Hurtado another vision; feed my people with God's Word in Mexico. In being obedient and being a servant to God's people, another branch church was established in Mexico. This church is flourishing in Mexico and God is pleased. Periodic missionary trips are scheduled to branch churches to provide spiritual support, encouragement and religious materials. God is continuing to bless His people in our community but most importantly throughout the world.
Contact:
Reverend Ruben Hurtado
8709 International Blvd.
Oakland, Ca. 94621
(510) 544-8910
iglesiabautista@allen-temple.org
Sunday Services 10:00 am-12:00 pm