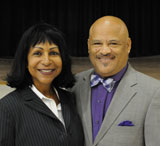 "Rather, speaking the truth in love, we are to grow up in every way into him who is the head, into Christ, from whom the whole body, joined and knit together..." --Ephesians 4:15-16
Dear Allen Temple Family and Friends,
Today marks the first Sunday of Lent, the 40-day period (excluding Sundays) leading up to the crucifixion of our Lord. It is a season in which believers undergo spiritual preparation through prayer, fasting, repentance, benevolent giving, and self-denial. Therefore, we invite the entire the entire congregation to join us in participating in the Lenten Season spiritual project developed by Assistant Pastor Jacqueline A. Thompson entitled, "Journey to the Cross: Remembering Jesus". This spiritual project is shared in our bulletin, e-newsletter and on our website.