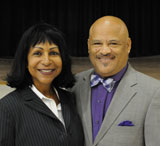 "Rather, speaking the truth in love, we are to grow up in every way into him who is the head, into Christ, from whom the whole body, joined and knit together..." --Ephesians 4:15-16
Dear Allen Temple Family and Friends,
Happy Resurrection Sunday! With the resurrection of Jesus, we see that death is not omnipotent, that the grave is not ultimately victorious. In fact, "Death has been swallowed up in victory" (1 Corinthians 15:54). Many Christians focus solely on physical resurrection after the grave, and fail to recognize that the resurrection also has power for our lives on this side of the grave while we yet live. They allow wretched circumstances to kill their spirits, and they walk around in a state of hopeless, living-death. Therefore, on this Resurrection Sunday, I challenge us to apply the resurrection victory to our own life situations.