People of all ages are invited to join the Evangelism Ministry in our outreach efforts!
The Evangelism Team is in partnership with Ceasefire (i.e. all of ATBC) has teamed up with Operation Ceasefire Oakland to prayer walk every Friday evening in East Oakland to stop the violence. We leave from various locations in East Oakland at 7:00 p.m. and return at or about 9:00 p.m.
We meet every second and fourth Saturday at the Church at 12 Noon to go to various locations in Oakland to share the Good News of Jesus Christ and the good news of Allen Temple Baptist Church to a lost and seeking world.
The Evangelism Ministry is in partnership with Soldiers Against Violence Everywhere (S.A.V.E. Outreach) of True Vine Ministries to bring a voice of concern to the City of Oakland about the sinful murders occurring here. We meet at their selected location every Saturday at 11:00am and leave at or about 12 Noon.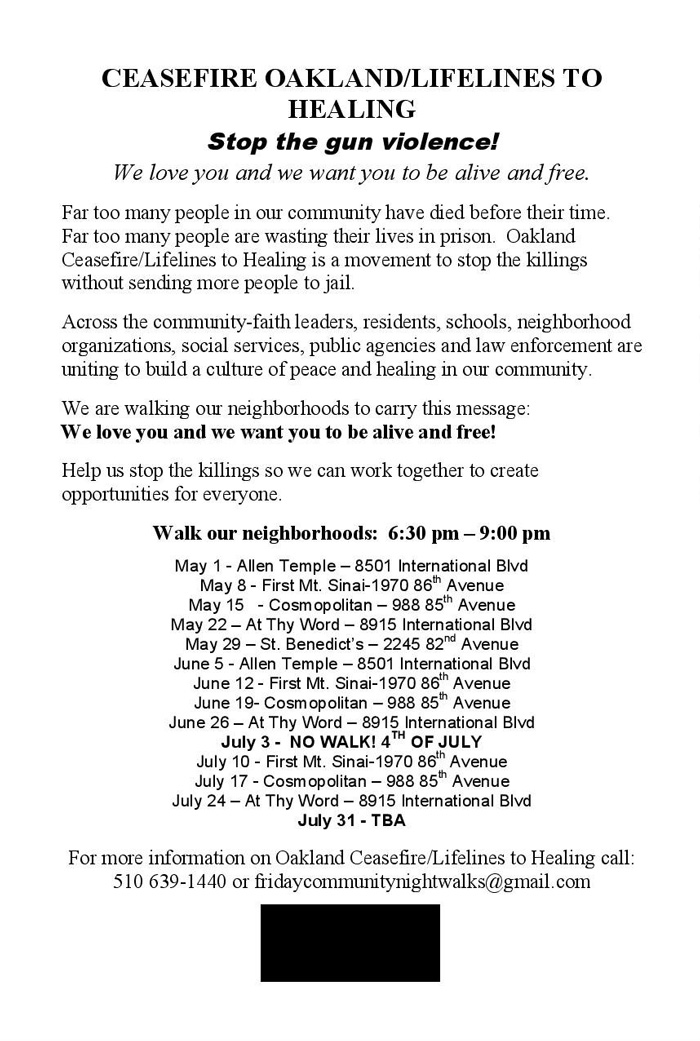 Contact:
Reverend Donald Paul Miller
(510) 544-8910

Meetings Day / Time:
Meets the 2nd and 4th Saturday of the month from 12 noon to 2pm

Meeting Location:
FLC Library - D101

Email:
evangelism@allen-temple.org