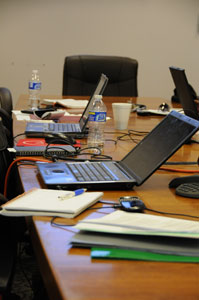 Our Mission
The Allen Temple Information Technology Ministry seeks to be the center of IT solutions by providing system management, system administration, technical support and training for the advancement of the commission found in Matthew 28:19-20. The goal of IT Ministry is to ensure these services are provided in an effective, efficient and timely manner to allow Allen Temple Baptist Church to evangelize and spread the gospel of Jesus Christ to residents, not only of our East Oakland community, but throughout the world.
The IT Ministry helps supply information technology solutions and training for the Allen Temple members, ministries, on-site staff and Allen Temple non-profit organizations that support our Oakland community. To do this, we work to form partnerships with all groups and ministries throughout the Church. Our ministry meets once a month through conference call and online meetings along with holding quarterly face-to-face meetings.
Documents To Download:
Requesting a User ID, Personal Email, Shared Ministry Email or Ministry Page
What We Do
Serve as the primary technology resource for the Church and associated Non-Profit organizations
· Ensure all hardware and software used on the ATBC Campus is maintained and fully functional
· Ensure good stewardship of the Church's resources by managing cost through strategic planning of technology purchases
· Manage technical network contractor resources on behalf of the Church
· Ensure the Church has a computer network backup strategy
· Support the use of the wireless, virtual & Email server network
· Manage the AT Help Desk
Provide working technology solutions throughout the ATBC Campus
· Assist in enhancing the worship experience through technical solutions.
· Improve the efficiency of ATBC staff, ministries and non-profit programs by seeking the best, most cost-effective technical solutions.
· Encourage better communication between servant leaders and the congregation by promoting the use of the AT.org website.
· Participate and actively support all ministries and programs of the Church that require technical solutions.
Create, promote and maintain the Allen Temple Website (www.allen-temple.org) as a primary communication tool
· Perform weekly and periodic updates on Allen-temple.org
· Manage the web design work
· Promote the use of allen-temple.org as a major communication tool for ATBC and associated Non-profit groups through links with our internal and external partners in the community
· Expand the use of allen-temple.org as the face of Allen Temple to our members, our community and to the world by ensuring updated content is always present.
Provide Training and Computer Lab support
· Support basic training on current and new software, applications and hardware
· Support technical training provided by other ministries
· Support the Computer Lab and Drop In Center for AT members and the community we serve
We anticipate future projects to keep us connected with our members and the community and provide ministries with support such as Deacons zip code database use; online Sick & Shut In contact List; online Prayer Request List; online volunteer database; increased use of Web conferencing tools; designing iPad and Smartphone apps for AT; congregational, staff and community training in technology.
We welcome you to join us!
If you are comfortable using Microsoft Word, we can use you to help ministries (maybe your own) to update content on the website. If you have technical abilities in hardware and software management, computer training, web design, app development or know how to use all the latest gadgets from Smartphones to iPads, we can use your help. Finally, if you are a former techie and want to learn more about a different area such as web design or network support, we really can use your help! We encourage you to use the talent God provided to support this important ministry!