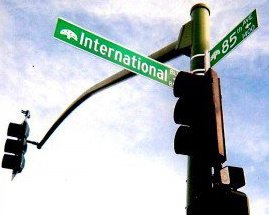 For generations the scourge of human trafficking has been synonymous with Oakland, California. The 1972, Blaxploitation film, "The Mack" introduced Oakland's flesh trade to the world. The Hughes Brothers 1999 documentary, "American Pimp" merely served to update the city's tragic problem. Human trafficking has quietly risen to become the second most prevalent criminal enterprise on the planet.
Locally, both the pimps and the people that they exploit have become younger. Today, there are children, some as young as ten years old being sexually exploited on the streets of Oakland.
The Streets Disciples take their name from a song called, "Just A Moment" which was recorded by New York City hip hop artist, Nas. The group has formed to offer support and aid to the victims of human trafficking. The ministry networks with other churches and social service agencies to provide legal services, housing assistance, advocacy and spiritual counseling to those in the need. The ministry also seeks to offer support to the parents and grandparents of commercially sexually exploited people. The Streets Disciples plan to offer educational services to at-risk youth.
Notes: The Streets Disciples welcomes members who would like to participate in our fight to bring freedom and dignity to brothers and sisters trapped in the new American slave trade. Opportunities for service range from clerical work to street level evangelistic ministry. Not everyone is called to be a front line soldier. If you can help with correspondence or help us prepare lunches for the folks whom we serve, we can use your help.
January is Human Trafficking Awareness Month
On December 31, 2013, President Barack Obama signed a proclamation declaring the month of January as National Slavery and Human Trafficking Prevention Month. This is to be followed by an annual celebration of National Freedom Day on February 1. In accordance with that proclamation The Streets Disciples ministry has highlighted the awareness and the tragedy of human sex trafficking every January for the last few years.

Sex Trafficking is a multi-billion dollar profit making proposition. Especially as African-Americans we have some idea of what slavery is like. We were sold, used, misused, and abused at the hand of slave owners and perpetrators of hatred of our humanity. The ultimate disrespect and insult of one's humanity is to be treated as property.

Please join with the Streets Disciples and many other grass roots organizations to proclaim NO MORE!

"I will not be complicit in the slavery of girls and boys who are sold for sex!" "I will not be an accomplice by turning my head and shaking it saying, "That's a shame" while driving by and not even praying for her or him." When we do nothing then we agree in some way with this atrocity. Then the 'pimp' or perpetrator isn't the only guilty one. Oh no! I will not be an accomplice with the 'pimp'!!! Instead, I agree with Jesus that she or he is a lost sheep that He came to seek and to save! My brother and my sister! "For such were some of you" the Bible plainly states. I agree with what the Bible says. Do you? As Bible believing Christians let us love one another…especially the lost sheep….because love is of God. When nothing else could help LOVE lifted me.

This is Sex Trafficking Awareness Month. Now you are aware! Pray about what you are now to do about it.
How think ye? If a man have an hundred sheep, and one of them be gone astray, doth he not leave the ninety and nine, and goeth into the mountains, and seeketh that which is gone astray? - Matthew 18:12 KJV

All we like sheep have gone astray: we have turned every one to his own way; and the LORD hath laid on him the iniquity of us all Isaiah 53:6 KJV

Human sex trafficking is a kind of modern-day slavery. Traffickers control and exploit their victims for profit. The US federal law defines victims of human sex trafficking in three categories:
Minors (under age 18) induced into commercial sex
Adults (age 18 or over) involved in commercial sex trade by force, fraud, or coercion
Children and adults forced to perform labor and/or services in conditions of involuntary servitude, peonage, debt bondage or slavery through force, fraud, or coercion, such as domestic workers held in a home, or farm workers forced to labor against their will.
Why is this important:
This is modern-day slavery. A slave does not have a voice. A slave works for the "master" and is "taken care of" by him/her. A slave is used and abused at the whims of its master. A slave has no rights.

It is a CRIME punishable by law. The Abolition of Child Commerce Exploitation and Sexual Slavery Act of 2011 (AB12, Swanson) enacted 7/2011. Individuals procuring sexual services from a minor to pay and additional fine (up to $25,000) to fund programs for these children. The tragedy is that OPD does not arrest these perpetrators, but does arrest the girls and women.

Children are victims! They are not accountable for this coercion. This exploitation can be initiated by parents, foster parents, relatives, family friends and of course strangers.

Girls are trafficked as young as 10. The average age that girls are enticed into this trade is 12-14 years old. Boys are trafficked too. Many have been raped at a much earlier age as young as 2 or 3 years old. It changes who they are.

Human Trafficking is the world's second most profitable criminal industry (along with illegal arms trafficking). The most profitable industry involves drugs.

It is a $32 Billion dollar a year global industry. Nationally it is about a $15,000,000,000 enterprise. Consequently, many drug dealers (on all levels) are more interested in human trafficking because "a prostitute can be used over and over again." As opposed to a product that is consumable.

Much of human trafficking now occurs through social media, online chat services, and the internet. Please KNOW what your children are watching on their laptops. There are many predators lurking to entice them.
Slavery Still Exists
Human trafficking is a form of modern slavery that occurs when one person exerts control over another person in order to exploit them economically. The victim is controlled through manipulation, violence, or the threat of violence and cannot walk away!

This can be through labor trafficking or sex trafficking! This is a crime!

Sex trafficking happens in the context that includes the commercial sexual exploitation of children (CSEC), as well as ALL ADULTS who engage in a commercial sex act because of FORCE, FRAUD, OR COERCION. You do not have to be exploited! There is help!

Call the National Human Trafficking Hotline toll free at 888-373-7888 or text INFO or HELP to 233733 (BEFREE)!

To signup to volunteer for the Streets Disciples Ministry, please click Streets Disciples Ministry Volunteer Signup Form
Related Streets Disciples Videos:
Conversations on Sex Trafficking
Contact: Sis. Mattie Green-Johnson 510-544-8910
Location: Allen Temple Family Life Center
Meetings Day/time:
"For Sisters Only" meet each 3rd Saturday at 4 pm.Volunteers need to arrive at 3 pm for preparation.
The volunteer team meets 2nd Saturday's at 2 pm in the Ray Collins Conference Room.
Additionally, we do street ministry at 12 noon with the Evangelism Team in the church library.
Hope to see you. Please pray for our strength in the Lord.
Email: StreetsDisciples@allen-temple.org

Visit us on Facebook