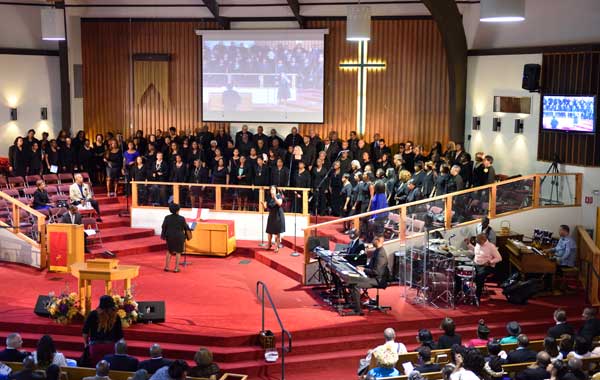 Mission Statement
The Mission of the Music Ministry is to please God through our lifestyle and by providing praise, worship, and music that brings others to Christ and edifies the Allen Temple Baptist Church membership, the community and the greater Bay Area.
Core Values
Love of God
We place God FIRST in all that we do. He has given us musical gifts, and we use them to His glory. It's all about Him.
Sing to Him, sing praise to Him; tell of all His wonderful acts."
Psalm 105:2
Service
We serve through praise and worship, and set the atmosphere to edify those in the worship service and the community at large.
"Serve the Lord with gladness; come before his presence with singing."
Psalm 100:2
Unity
Whether playing an instrument, directing, dancing or singing, we are an integral part of the whole body of Jesus Christ and work together through our faith and in our actions.
"The trumpeters and singers joined in unison, as with one voice, to give praise and thanks to the Lord…"
2 Chronicles 5:13
Composition of the Music Ministry
The Music Ministry choirs, choruses, and the Praise Dance Ministries are primarily comprised of Allen Temple members. However, individuals who are interested in worshiping with us are welcomed.
Each choir has a set singing schedule, however, other dates and times may be requested by the Pastor, Assistant Pastor, church family members, etc. Choirs/choruses sing both the 8:00 AM and the 11:15 AM services on their designated Sunday. Rehearsals are held in the Choir Room, unless otherwise noted.
The Ministry includes:
Unity Choir

Who: All members of Allen Temple (AT) choruses and choirs
Director: Derrick Hall, Minister of Music
President: Walter Johnson, 510-913-1968
Vice President: Carol Cody, 510-388-2300
Sunshine: Patsy Lockhart, 510-209-8553
Rehearsals: Tuesdays 7:30 PM
Singing Schedule: 1st Sunday

Men's Chorus
Who: Males of all ages
Director: Dr. Alvin McLean, Co-Chair Worship, Arts, Media & Technology Cluster
Administrator: Wanda Oliver, 510-390-0571
President: Hiawatha Harris, 617-449-7777
Sunshine: Wanda Oliver, 510-390-0571
Rehearsals: Wednesdays at 7:30 PM and Saturdays at 12:30 PM
Singing Schedule: 4th Sunday
Women's Chorus
Who: Females of all ages
Director: Sandra Igelhart, 510-303-3481
President: Nelda Jacobs, 510-384-4814
Sunshine: Joyce Danielly, 510-420-5732
Rehearsals: Tuesdays at 6:00 PM in those months with a 5th Sunday
Singing Schedule: 5th Sunday
LYFE (Living Your Full Expectation) Choir
Who: Young adults 19-40 years of age
Director: Michael Hill, 510-393-3313
President: Imani Cole, 510-437-0106
Sunshine: Nia Cole, 510-283-1717
Rehearsals: Wednesdays at 7:30 PM
Singing Schedule: 3rd Sunday
Youth Choir
Who: Children 13 - 18 years of age
Director: Derrick Hall, Minister of Music
President: Lyniece Hill, 510-569-4932
Rehearsals: Wednesdays 6:30 PM to 7:30 PM (except 3rd Wednesday)
Singing Schedule: 2nd Sunday
Children's Choir
Who: Children 5 - 12
Director: Heidi Hill 510-569-4932
Parent Contact: Colleen Shoulders, cshoulders25@gmail.com
Rehearsals: Wednesdays 6:30 PM to 7:30 PM (except 3rd Wednesday)
Location: J. Alfred Smith Fellowship Hall or Wildy Carpenter Hall
Singing Schedule: 2nd Sunday
Praise Teams
Who: Selected members of the Music Ministry
Directors:
Derrick Hall, Youth
Alvin McLean, Combined Praise Team
Singing Schedule: Sundays as assigned
AT Praise Dance Ministry
Who: All males and females
Director: Andrea Spearman
Rehearsals:
Angels (Children) Mondays and Fridays 6:00 PM to7:30 PM
Praise Dancers (Adults) – Fridays 7:30 PM to 9:00 PM
Dance Schedule: Announced
Location: Dance Studio
AT Kingdom Dancers
Who: Youth and Young Adults
Director: Danielle Latimer, 510-461-2070 and Ariel Litzsey, 510-502-1407
Rehearsals: Mondays 7:00 PM to 8:30 PM
Dance Schedule: 2nd or 3rd Sundays
Location: Dance Studio
*Additional rehearsals are scheduled at the discretion of the director.
Sunshine Evangelism Team
As part of our core value of Service, members of the Music Ministry volunteer to share their gifts outside of Allen Temple. From time to time, we visit those who are sick and/or shut-in. The dates and times vary and requests for volunteers are made during rehearsals. If you are interested in volunteering, please let your Director and/or President know.
Betty D. Gadling Fine Arts Academy
The Betty D. Gadling Fine Arts Academy, named after Betty D. Gadling, Allen Temple Minister of Music Emerita, was developed to address the scarcity of music instruction available in the public schools. For more information on this program including scholarships, please select Betty D. Gadling Fine Arts Academy program.
We invite you to please come and help us continue to provide a ministry worthy and acceptable to our Creator. If you are interested in serving in this dynamic Music Ministry and working with creative, energetic, Christian women, men and children, please contact: Alvin McLean, Jr., Ph.D., Minister of Music 510.544.8924 or Linda Walls Brown for Music Cultural & Performing Arts Committee (MCPAC) information - 510.569.4005
The Music Ministry also has a Committee for Music, Cultural and Performing Arts. This group presents several programs throughout the year to the community. Additionally the After School and Summer Music Programs provide instrumental and voice instruction to children and youth.

The Music, Cultural and Performing Arts Committee (MCPAC) The Music, Cultural and Performing Arts Committee (MCPAC) was founded in 1990 by a group of Allen Temple members who were interested in expanding the Church's Music Ministry, focusing on our children and the Community as a whole. Our mission is to celebrate the diversity of Allen Temple's culture and talents through music and theatrical performances. MCPAC, over the past 20 years, has sponsored various performances throughout the greater San Francisco Bay Area, including:
Black Nativity – A Spiritual Christmas Musical
Black History Concert Series – Friday night concerts held throughout the month of February.
Celebration of Lights – A Biblical musical that depicts the representation of light in both the Old and New Testaments and the birth of our Lord and Savior, Jesus Christ.
Cotton Club Review – A children and youth rendition of the famous Harlem Nightclub.
The Maafa – A powerful production about the Middle Passage and forgiveness.
Great Wall Youth Orchestra & Chorus
Music Ministry Staff:
Minister of Music: Derrick Hall
Administrator: Linda Walls-Brown
Alvin McLean, Jr. Ph.D, Director, Men's Chorus and Praise Ministry
510.544.8924
Ron Lynch, Guitarist
Dave Goodlett, Guitarist
John Wayne, Percussionist
Mary Woods, Pianist
Vernon Hall, Bassist
Volunteer Staff:
Kristina Lee, Percussionist
Andrea Spearman, Director of Praise Dance Ministry
Roussell White, Brass
Related Ministries