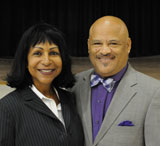 Dear Allen Temple Family and Friends,
As we commemorate Black History Month, let us remember that our commemoration of Black History should never be a perfunctory or superficial ritual-exercise carried out simply because the calendar calls for it. Black History Month should be a time for us to contextualize our present position in our journey as a people in relation to the situations from whence we have come.
As we assess our progress as a people, we can then celebrate important breakthroughs, confront disappointing setbacks, step into places of ongoing inertia, gird our loins for continuing struggle, and seize new and fertile areas of opportunity.
Let us continue to learn from and share our victories and struggles with one another so that we may continue to grow in faith, strength and community.
Agape,

Senior Pastor J. Alfred Smith, Jr.