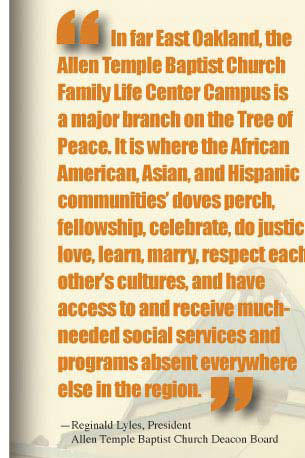 The Family Life Center Campus is comprised of two buildings and a courtyard with gardens. Open seven days a week from 7 a.m. to 11 p.m., the Campus provides programs to address the needs of children, youth, seniors and families in East Oakland. Programs and services offered through the Campus do not require church affiliation nor do they require adherence to a specific set of religious beliefs.

The Family Life Center is a 64,000 square foot, two-story facility. Built in 1999 it is the only community center in East Oakland that is open to the public seven days a week.

The Dr. J. Alfred Smith, Sr.Training Academy is a 10,800 square foot building purchased in 2001 and awaiting renovation.

Learn about our partners. We partner with more than 25 organizations and institutions to serve East Oakland's individuals and families.

Learn about our programs. Learn more about the Family Life Center Campus.